Red Sea Diving Courses Sharm el-Sheikh - PADI Referral Courses
Duration: 2 - 3 Days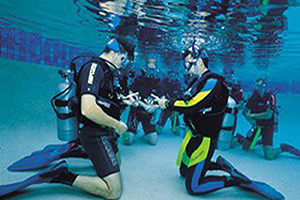 Referral Courses are for those who have completed part of their training below the PADI Open Water Diver certification level, or for divers who have completed any level of dive training with another certification agency other than PADI and wish to continue their training with PADI.
PADI Referral Course: The typical Referral Course is for those who have completed their academics and confined water, and would like to complete their final 4 open water qualification dives. This is common for those who live in an area where the water is cold or has limited visibility.
Also, if you have completed a Discover Scuba Diving (DSD) experience in the past 12 months, and want to continue to the Scuba Diver or Open Water Diver level, then you need not repeat the sessions from the DSD. If you have completed any sessions of the Open Water Course, then a referral course can be designed for you to complete your training, based on the amount of training already completed.
Upgrade from Scuba Diver to Open Water Diver: This referral course is for those who have been certified as Scuba Divers and want to upgrade to Open Water Diver.
From Non-PADI to PADI: For those who have completed any amount of training with a non-PADI dive training agency, you can continue your training with PADI. We will determine the equivalent license level with PADI, and proceed from there.
Experienced Diver Program: For those who have previous dive experience from the military or commercial dive training, then your training, if documented, can count as credit toward the Open Water Course. A program will be designed by your instructor based on documentation and observation of your diving skills.
The type of referral course will indicate what is needed to complete your course, as all referral courses do not include the same dives. Please contact us for details about the specific referral course you need to do and what type of documentation you need to verify your past training.
Prerequisites:
Minimum age 10 years old.
Documentation of training.